1) Eat a dozen belons at Chez Jacky from the Belon River in France.
These are the rarest, most flavorful oysters in the world. Belons are available a few times a year and at Pearl Dive in DC, but once they tweet about it–dozens of belon lovers come in and normally sweep them away before the night is even over. Belons were introduced into the wild in the U.S. a few years ago and now grow in the wild on the Northeastern coastline, but one day–I want to eat them straight from the river they come from.

2) Visit the Floating Market in Thailand
One of the most famous markets in the world, one of the things I want to do at the floating market in Thailand is try their floating market soup. A bowl of noodle soup with vegetables and meat that is prepared right from the boat.

3) Sip and slurp on wine & oysters at Saffire Freycinett in South Africa.
I want to go wine tasting and sightseeing in South Africa… and also eat oysters plucked straight from the water.

4) Go truffle hunting in Oregon during the white truffle festival… and eat as many truffled dishes as possible.
This is my ultimate dream!!! As a mushroom lover, I've been OBSESSED with truffles and have read every book on them I could get my hands on. My dream is to attend the oregon truffle festival one year with a truffle hunting dog and go looking for them in the wild while enjoying the beautiful scenery in Oregon. Truffles, puppies and truffled food. I don't think it gets better than that for me.

5) Have a slice of neopolitan pizza from Naples.
I want to eat a neopolitan pizza straight from where it was first created–Naples, Italy. Then I want to enjoy a cup of gelato right after.

6) Enjoy some sushi at Sukiyabashi Jiro made by the ultimate sushi master himself.
Anyone ever see Jiro Dreams Of Sushi? If not, that's a movie every foodie needs to see. It's about the legendary 3 Michelin-Star awarded sushi restaurant in Japan that is run by an 85 year old sushi master who visits the market himself every morning, massages the fish and rice for hours in preparation and claims that he loves sushi so much that he dreams of all the tasty combinations of sushi in his sleep.

7) Visit Pierre Herme and eat all the french macarons in sight.
I'm also a little obsessed with French macarons, and unfortunately–there are a ton of bad ones around NoVA. After having sweet lobby's macarons and laduree's in NYC–I want to taste the real thing in France.

8) Catch a live paddlefish and have fresh caviar at Lake of the Ozark.
Okay, this might seem a little gross–but how cool would it be to catch your own live paddlefish and enjoy the freshest caviar you'll ever have in your life?!

9) Eat incredibly tender grilled octopus in Greece
There is something about the grilled octopus in Greece, my cousin claims. Otherwise an incredibly picky eater, my cousin wouldn't touch calamari or octopus in the U.S., but after her trip to Greece–she claims that the fresh grilled octopus was so tender (the NY times claims it's scientifically tenderized in vinegar in the link above) that it tastes nothing like the grilled octopus you'd find here.

10) Gorge on street food at Taiwan's famous night market
Taiwan's famous night market is the heart of Chinese comfort food. You'll find everything from shrimp balls to fried chicken, egg cakes and everything you love about fast food and Chinese cuisine all in one glowing street in Taiwan.

11) Feast on tapas in Barcelona
Fresh anchovies, olives, cheese, ham wrapped cheese–there is nothing I don't like about spanish tapas.

12) Dine on Foie Gras Poutine at Au Pied de Cochon in Montreal.
Poutine is a Canadian snack made of fries and torn mozzarella cheese smothered in gravy and sprinkled with herbs and salt. The poutine at Au Pied de Cochon kicks it up a notch by adding creamy foie gras on top. Yum.

13) Try some hot chocolate with cheese in Colombia.
This is the weirdest combination I've heard of, but if you think about it–what do you eat for dessert after your dinner? Normally something sweet like chocolate, and sometimes–cheese! How could it go wrong?

14) Eat all the yummy raw poke Hawaii has to offer.
Poke is like Hawaii's version of ceviche. Fresh-caught seafood is chopped raw up and thrown together in sauces and spices in multiple delicious combinations.

15) Snack on crunchy sweet juice-filled jalebi in India
I've only had this once in my life, and it was at a hole-in-the-wall Indian restaurant that is now closed. Jalebi is hard to explain.. it's like a crispy candy in a funnel-cake like structure that is filled with sweet juice inside. Once you take your first bite–the juice comes pouring out if you aren't careful.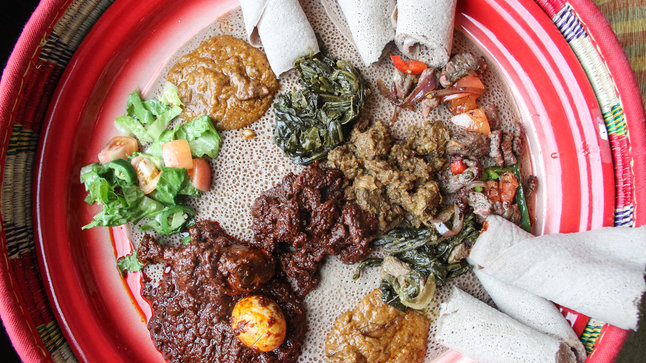 16) Get my fingers dirty with some Kitfo from Habesha in Ethiopia
Because I've been waiting ever since I was a kid to finally eat dinner with just my hands. Kitfo is a mix of Ethiopian dishes on top of a spongey bread pancake that you're supposed to tear into pieces and eat together with the different curries and vegetables on top. Oh! And everyone eats from the same plate.

17) Chow down on pork knuckle & Crackling in Germany
A large, tender chunk of ham with the crispiest pork crackling wrapped around it. This sounds amazing.

18) Dig into halo halo in Phillipines
I first had this at a Fillipino fast food restaurant in Virginia Beach, but I want the real thing in the Phillipines! Halo halo is a Fillipino dessert made of shaved ice, condensed milk, beans, leche flan, purple yams, tapioca, plantains, coconut, more fruit and topped with ice cream!

20) Dive into the magical minds of molecular gastronomists
through a tasting menu at wd~50, another michelin star awarded restaurant in New York City.

21) Enjoy high tea at the Botanical Gardens of Halia in Singapore
I love high tea, and at Halia–they serve whimsical bites on a patio in Singapore's beautiful botanical gardens. How's that for a garden party?

22) Enjoy some beef kefta tagine in Morroco
Morroco cooks many of its dishes in beautiful tagines. Meat, sauce, veggies and eggs are slowcooked in these pots for hours to make the most flavorful stews.